Vienna keeps good company with Radiohead and new supergroup The Dead Weather on the current edition of All Songs Considered.
3/4/2009
If you missed Vienna and Alex's performance on Mountain Stage the first time around in August 2008, most stations will rebroadcast that episode during this upcoming weekend of March 6-8. Check this list for stations and airtimes. The following week, on March 12, the individual set will be archived and streaming at npr.org/mountainstage.
A day in Vienna's life was filmed last December, and that included the show that night in San Francisco. The 2009 season premiere of KQED's Spark will feature the segment, and you can watch a preview on their page for the episode.
KQED TV9/HD
Wed, Mar 18, 2009 — 7:30 pm
Thu, Mar 19, 2009 — 1:30 am
Fri, Mar 20, 2009 — 11:30 pm
Sat, Mar 21, 2009 — 5:30 am
KQED Life
Sat, Mar 21, 2009 — 2:00 pm
Sat, Mar 21, 2009 — 10:31 pm
Sun, Mar 22, 2009 — 4:31 am
Sun, Mar 22, 2009 — 11:00 am
Sun, Mar 22, 2009 — 11:30 pm
Mon, Mar 23, 2009 — 5:30 am
Update: The segment is now available to watch online.
2/6/2009
2/3/2009
The official music video for Gravity, produced by Fat Monster Films, is now on YouTube.
Director: Tim Hyten
Producer: Mark Johnson
Director of Photography: Steven Dempsey
Production Assistant: Scott Bullis
Actor: Norm Sanders
Piano Technician/Host: Dean Petrich
Mark and Tim discovered the song and developed the video concept before they even met Vienna, approaching her and Rounder when half the video had already been shot. They filmed Vienna's portion on Whidbey Island, Washington last February. You can read about the shoot on the Fat Monster blog, as well as Steven Dempsey's blog, Vienna's scrapbook and the DVX User Forums.
Thanks to the Fat Monster crew for all their hard work and creative vision!
12/17/2008
Just in time for the holidays, our good friend David Beattie has transcribed all 13 songs on Waking Hour into a book of sheet music. Transcriptions include chords, vocal harmonies, and piano parts that combine the best of the studio and live versions.
Click over to the merchandise store to order. First shipments go out Friday, December 19.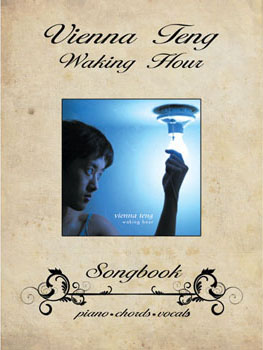 10/10/2008
If you didn't catch Vienna performing with Alex Wong back in August on West Virginia's Mountain Stage, or missed your local radio broadcast of the show recently, now you can hear it online at NPR's Mountain Stage webpage.
Their five-song set included two songs from the forthcoming album ("In Another Life" and "Grandmother Song"), as well as "Brooklyn Blurs," from Alex's project The Paper Raincoat.
Read and listen here:
http://www.npr.org/templates/story/story.php?storyId=95567842
9/8/2008
6/28/2008
6/17/2008
Vienna and her quartet are confirmed to play on Sunday, August 24 at Outside Lands Music & Arts Festival in Golden Gate Park.
This is a huge summer festival with some of the biggest names in rock and pop headlining (Radiohead, Tom Petty, Jack Johnson), along with some of Vienna's favorite artists (Kaki King, Andrew Bird, Matt Nathanson)…needless to say, we're thrilled!
Check out the full lineup and buy your tickets soon.